By RVA News | November 10, 2022
The parishioners of Our Lady of Periyanayagi Shrine in Konankuppam, in southern India's state of Tamil Nadu, celebrated an Italian Jesuit missionary's 342nd birthday, on November 5.
Father Costanzo Giuseppe Beschi (1680–1747) was sent to the Madurai Mission, Tamil Nadu, in 1711. For his contributions to the Tamil language and literature and is popularly known as 'Veeramamunivar' (courageous sage).
Father Beschi was a well-educated man who spoke several languages, including Latin, Greek, Hebrew, and Portuguese.
He moved to India as a missionary and learned Tamil, Sanskrit, Telugu, and Urdu at the mission and wrote extensively in Tamil on both religious and profane subjects.
He was deeply devoted to the Virgin Mary. He, like other missionaries, sought her assistance in evangelization and protection on sea voyages. He constructed two significant Marian shrines: Konankuppam in the Cuddalore district of Tamil Nadu, India, near Parur, and Ellacurichi near Tanjore.
In the 17th century, these two sanctuaries became pilgrimage sites and are revered as such today. In southern India, particularly in Tamil Nadu, devotion to the Virgin Mary is widespread, and she is regarded as the iconic figure of contemporary Indian Catholicism.
Drawing, speech, singing, and other competitions were held in Our Lady of Periyanayagi Shrine in Konankuppam on November 5, and prizes were distributed to the children, said Father Devasagaya Raj M Zackarias, the shrine parish priest.
The statue of Veeramamuniver was garlanded by R. Radhakrishnan, the Member of the Legislative Assembly (MLA) of Viruthachalam, and Saamy, the Cuddalore district councilor, who participated in the event.

The first Catholic missionaries from Europe landed in Tamil Nadu in 1542 and worked for the social, cultural, educational, and religious advancement of people.
Although there came missionaries from different religious congregations of the Catholic Church, special mention needs to be made of the services of Jesuits to Tamil culture and literature.
Of all the Jesuits, it was Father Beschi, who contributed the most to the development of both classical and spoken Tamil. His contribution to the Tamil language and literature is noteworthy.
Father Beschi compiled the first Tamil lexicon – a Tamil-Latin dictionary as well as a quadruple lexicon (Chaturakarati) containing words, synonyms, and categories of words and rhymes. He also wrote a grammar for the common use of Tamil, for all of which he is referred to as the 'Father of Tamil Prose'.
Veeramamunivar introduced the system of dotting the Tamil consonants and writing the long vowels.
His biggest poetical work is the Thembavani (The Unfading Garland), an ornament of poems 3615 stanzas long on salvation history. He also wrote a guide book for catechists with the title Vedhiyar Ozukkam and other didactic religious books for the instruction of Catholics.
All his poetical and prose works in Tamil are available even today in printed form.
Beschi translated and explained in Latin the "Thirukkural," an epic by Thiruvalluvar, the celebrated Tamil poet and philosopher. Thirukkural is a collection of couplets on ethics, political and economic matters, and love.
Beschi's Latin work was an eye-opener for European intellectuals, enabling them to discover truth and beauty in Tamil literature.
He also translated into European languages several other important Tamil literary works such as "Devaaram," "Thiruppugazh," "Nannool," and "Aaththichoodi."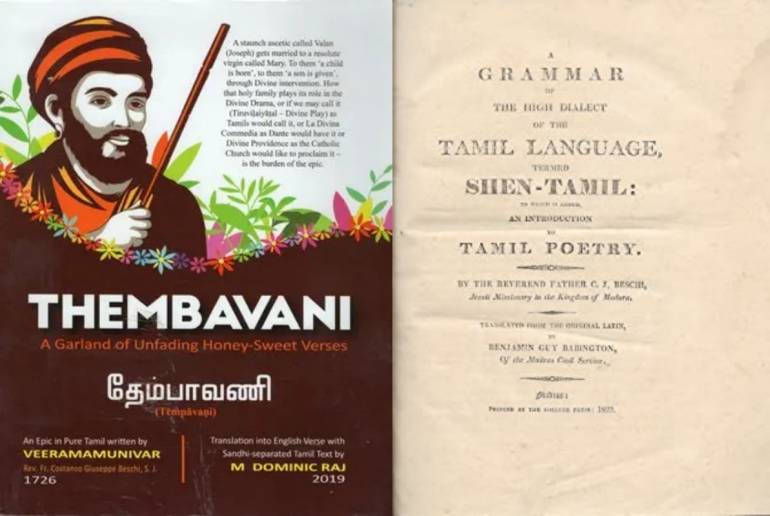 Father Costanzo Giuseppe Beschi was born at Castiglione in the Venetian Republic on November 8, 1680, and died on February 4, 1747.
He arrived in Madurai in 1810, adopted the native Tamilian lifestyle, preached among the locals, and changed his name to Veeramamuniver (courageous sage).
He wore the saffron-coloured robe typical of a 'sannyasi' (Indian ascetic), mastered the local language Tamil, and wrote "Thembavani," a famous Tamil poem.
Bishop Robert Caldwell, a missionary for the London Missionary Society, assigned Veeramamuniver the great honour of being one of the two most illustrious Tamil poets of the modern period.
– Robancy A Helen